Statistics show that empty houses are harder to sell because it can be challenging for many people to imagine how spaces can be set up. This particular home is an older home with decent but not overly large rooms. They key is to not overly fill the room with clutter. So, its important to keep your design simple. You don't want the rooms to feel too full.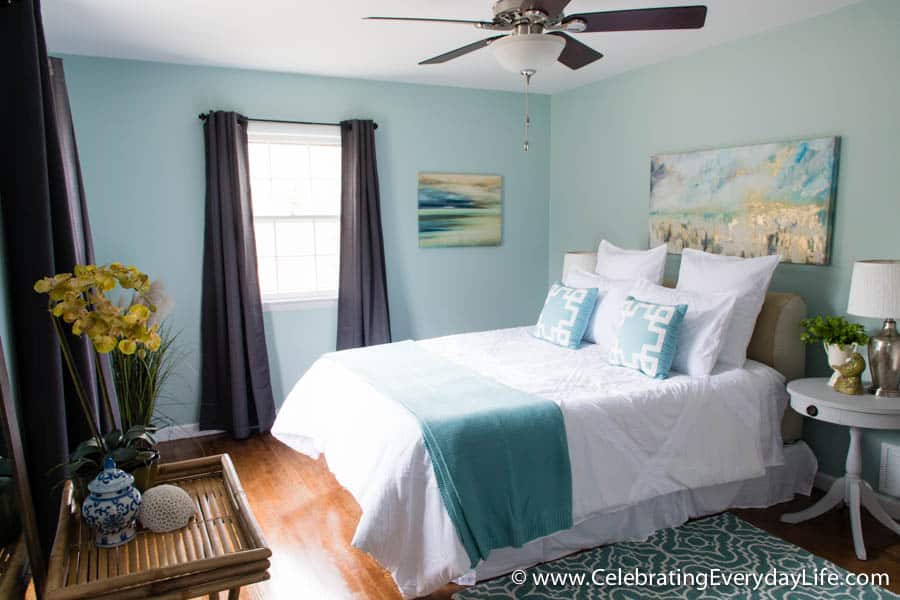 Here are some tips I have for you when staging a bedroom to sell!
Don't overfill the space – consider taking some furniture out of the room if necessary so that it feels roomy. You may even want to temporarily store your king sized bed and replace it with an Queen sized air mattress! (Note, if you are going to be actually sleeping on an air mattress do not use the plastic tubs as a base, those are for staging purposes only!)
Bedrooms are havens that we all want to retreat to at the end of a busy day, use soothing serene colors so potential buyers feel like they are entering a "retreat," almost spa like room. It will make an impression!
Keep your decor, especially bed linens, neutral. You want as few negative distractions as possible and dated fabrics are a quick "turn-off" to everyone.
Consider hiring a professional decorator or stager if you are selling your home. While a good stager will cost a little bit of money, you could end up making thousands more in your final sale price, just like these home owners did!
To read the rest of this very helpful article, click here!
Don't forget to follow LiveWell Homes on Facebook!
http://livewellhomes.net/